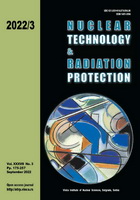 Vol. XXXVII, No. 3, Pp. 175-257
September 2022
UDC 621.039+614.876:504.06
ISSN 1451-3994


Pages: 193-200

Authors: Vladimirs V. Gostilo, Andrey N. Vlasenko, Vasily S. Litvinsky, and Igors A. Krainukovs

Abstract


The results of the development of modern precision monitors of alpha, beta and gamma ray radiation for setting up early warning systems for radioactive contamination in the atmosphere and rapid assessment of emerging threats, are presented. Proportional counters, scintillation SrI2(Eu) crystals and semiconductor Si, CdZnTe, and HPGe detectors are used for the development. The designed monitors provide information both on dose rate values in real time and on the activity of specific radionuclides. The software controls the measurement mode, as well as diagnoses the condition of the monitors themselves.
Key words: radiation early warning system, radioactive aerosol, environment monitoring, water radiation monitoring, ambient dose equivalent
FULL PAPER IN PDF FORMAT (913 KB)