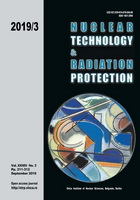 Vol. XXXIV, No. 3, Pp. 211-312
September 2019
UDC 621.039+614.876:504.06
ISSN 1451-3994


Pages: 231-237

Authors: Mohsen Esfandiari, Gholamreza Jahanfarnia, Kamran Sepanloo, and Ehsan Zarifi

Abstract


The aim of this study is to present a thermo-hydraulic analysis of the loss of offsite power accident in VVER-1000/V446 nuclear power plant using the RELAP5 code. Loss of offsite power accident would lead to the unavailability of major active safety systems, and that the safety criteria ensuring a secure operation of the nuclear power plant would be violated, resulting in core heat-up with possible core degradation. Therefore, the analysis and investigation of the plant, during this accident, is very important. For this purpose, different behaviors of major components in the primary and the secondary sides of the reactor coolant system are studied. In this paper, the reactor is simulated by using RELAP5 system code. The results show a reasonable agreement with the developed model and also with the Bushehr nuclear power plant final safety analysis reports.
Key words: loss of offsite power, safety analysis, RELAP5, nuclear power plant, VVER-1000
FULL PAPER IN PDF FORMAT (950 KB)