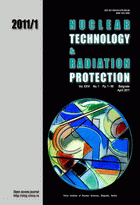 Vol. XXVI, No. 1, Pp. 1-99
April 2011
UDC 621.039+614.876:504.06 ISSN 1451-3994



Pages: 84-91

Authors: Mitica Dragusin, Alexandru Octavian Pavelescu, Ioan Iorga

Abstract

The V V R-S Nuclear Research Reactor at the "Horia Hulubei" National Institute of Physics and Nuclear Engineering in Magurele, Bucharest, will be decommissioned applying the immediate dismantling strategy. The implementation of the decommissioning project started in 2010 and is planned for completion within 11 years. Good practices in decommissioning planning, organization, funding, and logistics are described in this paper.

Keywords: research reactor, decommissioning, decontamination, dismantling, radiological monitoring
FULL PAPER IN PDF FORMAT ( 1,36 MB)