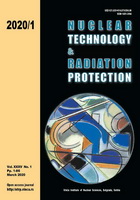 Vol. XXXV, No. 1, Pp. 1-86
March 2020
UDC 621.039+614.876:504.06
ISSN 1451-3994


Pages: 82-86

Authors: Marija Suriĉ Mihiĉ, Robert Bernat, Jerko Šiško, Maja Vojniĉ Kortmiš, Luka Paveliĉ,
Ivica Prliĉ, and Nikolina Mišak

Abstract


Individual hand monitoring for workers who manipulate unsealed radioactive sources in nuclear medicine is a necessity and the results can serve as the base for optimization processes. We performed an analysis of individual hand doses for medical staff preparing and applying radiopharmaceuticals (99mTc, 123I, 201Tl, 131I, or 125I) in three Croatian clinical hospitals, for a period of one year since extremity monitoring became legally mandatory in Croatia. The majority of annual hand doses for workers were below or slightly above 150 mSv per year with only a few workers exceeding the annual dose limit of 500 mSv. The analysis confirmed that the radiation protection expert's role in an individual monitoring programme and personal dosimetry is crucial in order to achieve the optimal radiation protection of workers.
Key words: hands monitoring, nuclear medicine, Hp(0,07), occupational exposure, equivalent dose to hands, ring dosimetry
FULL PAPER IN PDF FORMAT (342 KB)