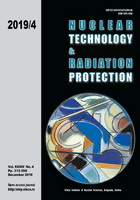 Vol. XXXIV, No. 4, Pp. 313-398
December 2019
UDC 621.039+614.876:504.06
ISSN 1451-3994


Pages: 384-391

Authors: Boris B. Vakanjac, Ivana V. JeliŠ, Milena G. RikaloviŠ, Vesna R. RistiŠ Vakanjac,
Dušan P. NikeziŠ, Zorana Z. NaunoviŠ, and Slavko D. DimoviŠ


Abstract


The present study deals with the abundance of the most common accessory elements of radioactivity carriers on the Stara Planina mountain at four defined locations. All investigated locations have increased radioactivity, greater than 200 cps, up to 1250 cps. In all examined samples the following elements were detected and their concentrations were determined: Zr, Rb, W, Mo, Sn, Zn, Cu, As, Sb, Ba, Ni, Cr, V, and Ti. The analysis showed that depending on the sample, elevated concentrations of all detected elements except titanium were found. As all localities containing the listed detected elements are located near watercourses, all the present elements, and in particular, those with elevated concentrations can be relatively easily transferred to the environment by water action. Likewise, there is the possibility of eolic erosion from the investigated deposits and tailing dams whereby these chemical elements and/or radionuclides would be distributed to areas away from the primary sources of natural radioactivity. These have a high risk of spreading and therefore have harmful or radioecological effects on the environment. The study indicated a need for adequate monitoring, and risk assessment of the examined locations, which could prevent the distribution of these elements further into the environment.
Key words: accessory element, radioactivity, toxicity, biohazard, environment

FULL PAPER IN PDF FORMAT (516 KB)