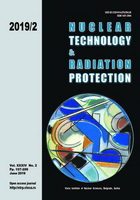 Vol. XXXIV, No. 2, Pp. 107-209
June 2019
UDC 621.039+614.876:504.06
ISSN 1451-3994


Pages: 165-174

Authors: Perko VukotiŠ, Ranko ZekiŠ, Nevenka M. AntoviŠ, and Tomislav An­eliŠ

Abstract


Change of radon concentrations in dwellings with floor level was studied in six multi-story buildings, in four towns of Montenegro with different climate conditions. The annual average radon activity concentrations in 35 dwellings are found to be very low, mostly at a level of 20-30 Bqm-3. Absorbed gamma dose rates in these dwellings are in the range of 14-58 nGyh-1. The low radon concentrations are a consequence of a good tightness of the structures in contact with the ground and a small contribution of building materials to radon indoors. A clear general trend of changes in radon concentrations with floor level is not observed. In most of the dwellings on different floors in the multi-story building radon concentration varies very little, mostly within measurement error. A small decrease in radon concentration is noted between the two or three floors closest to the ground, but only in some of the buildings. Therefore, a decrease of indoor radon concentration with floor level cannot be considered as a general characteristic of multi-story buildings. Although the seasonal radon variations have not been in the focus of this study, it was found that the average radon activity concentrations in dwellings of the multi-story buildings are higher in warmer than in cooler half-year period, what is contrary to the general rule for homes in the world and in Montenegro as well.
Key words: multi-story building, year-long radon measurement, change of radon concentration with floor level
FULL PAPER IN PDF FORMAT (874 KB)