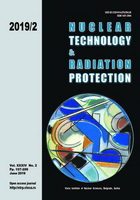 Vol. XXXIV, No. 2, Pp. 107-209
June 2019
UDC 621.039+614.876:504.06
ISSN 1451-3994


Pages: 157-164

Authors: Senada Avdić, Adnan Beganović, Armin Lagumdžija, Samra Sadiković, Beco Pehlivanović, Damir Demirović, and Irma Kadić

Abstract


The main objective of this study was to investigate the correlation between the indoor and outdoor ambient dose equivalent rates measured by the ion chamber inside and around the historical sacral objects at a few locations in Bosnia and Herzegovina. The investigated objects made of the traditional building materials were built in the Late Medieval, Post Medieval, and Ottoman Period of Bosnia and Herzegovina history. The LUDLUM Model 9DP instrument based on a pressurized ion chamber was selected for natural low level radiation measurements since the ionisation chambers have higher sensitivities than the other types of detectors. The detection capability of the LUDLUM Model 9DP pressurized ion chamber was examined in the laboratory conditions with a source of low activity and under natural environmental radiation conditions by measuring the indoor and outdoor dose rates. A weak positive correlation was found between the ambient dose equivalent rates inside the historical sacral objects and the dose rates outside the objects. The average evaluated value of the indoor to outdoor dose rate ratio of 1.07 for the studied historic objects is less than that obtained for the contemporary building materials such as concrete. No study on the indoor to outdoor dose rate ratio in Bosnia and Herzegovina measured by the LUDLUM 9DP dose rate meter based on an ion chamber has been conducted yet. In addition to direct measurements, the first gamma spectrometric analysis of a few samples of building materials from the Late Medieval period in Bosna and Herzegovina was performed. The results of the gamma analysis revealed almost uniform distribution of primordial radionuclides in the investigated samples. It was demonstrated that such materials had the reduced content of radioactive isotopes compared to the contemporary building materials and therefore they could have potential advantages in specific applications related to the environmentally sustainable architecture.
Key words: ambient dose equivalent rate, indoor/outdoor dose rate, pressurized ion chamber, gamma spectrometry
FULL PAPER IN PDF FORMAT (917 KB)