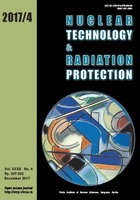 Vol. XXXII, No. 4, Pp. 307-392
December 2017
UDC 621.039+614.876:504.06
ISSN 1451-3994


Pages: 358-365

Authors: Vera D. Spasojević-Tišma, Milovan D. Matović, Olgica B. Mihaljević, Snežana T. Živanović-Simonović, Marija Ž. Jeremić, Vladimir Lj. Jakovljević, Vera N. Todorović, Ivan Lj. Pavlović, Snežana A. Pejić, and Ana U. Todorović

Abstract


The radioactive iodine (131I) ablation is a well-accepted treatment modality for differentiated thyroid cancer patients. Unfortunately, the radiation induces the oxidative stress and damages cells and tissues, simultaneously activating the mechanisms of antioxidative defense. Since the mechanisms of those processes are not completely known, we wanted to examine the changes in the most important reactive oxygen species and antioxidative components, as well as their correlation and significance for lipid peroxidation. Our results showed that the level of thiobarbituric acid reactive substances was increased during the first 30 days after the radiotherapy. Among antioxidant components, superoxide dismutase was increased in the 3th and 30th day; catalase in 7th and reduced glutathione in 3th and 7th day after the radiotherapy. As regards the prooxidants, the reduction of hydrogen peroxide (H2O2) was recorded in 7th and 30th day, and superoxide anion radical (O2· – ) was unchanged after the exposure to 131I. These results indicate that differentiated thyroid cancer patients are under constant oxidative stress despite the observed increase in antioxidative and reduction in prooxidative parameters. The understanding of these early processes is important since their progress determines the latter effects of 131I therapy.
Key words: oxidative stress, antioxidant enzyme, lipid peroxidation, radiotherapy, thyroid cancer
FULL PAPER IN PDF FORMAT (895 KB)