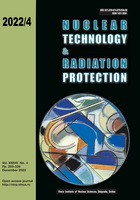 Vol. XXXVII, No. 4, Pp. 259-339
December 2022
UDC 621.039+614.876:504.06
ISSN 1451-3994


Pages: 302-307

Authors: Sameh E. Shaban, Ahmad R. Agha, and Karim A. Aladham

Abstract


Uranium dioxied is used as a nuclear fuel. Depending on the temperature and oxygen partial pressure, it is incredibly versatile and can accept a wide variety of stoichiometry. Many methods are used to estimate the non-stoichiometric O/U ratio such as the coulometric titration, gravimetric and voltammetric methods. These methods have some disadvantages and may be time and cost-consuming. This work develops an approach to determine the stoichiometric ratio by using MCNP-5 code and hyper pure germanium detector to estimate the count rate at 185.7 keV for UO2 pellets. The studied pellets are proposed to have 235U mass content (3 %, 4 %, and 5 %) and 1 cm away from the detector. The mass of the oxide within the pellets is 7.8995 grams. The relation between volume and density has been studied during different steps in which temperature increases. Finally, a reliable model is established to describe the process of converting green pellets to sintered pellets. The model is supported by employing artificial intelligence to predict some features and the overall correlation equals 0.99929.
Key words: stoichiometry, UO2 pellet, artificial intelligence, MCNP-5
FULL PAPER IN PDF FORMAT (860 KB)