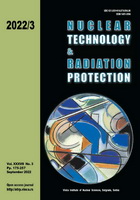 Vol. XXXVII, No. 3, Pp. 175-257
September 2022
UDC 621.039+614.876:504.06
ISSN 1451-3994


Pages: 181-192

Authors: Hong Xu, Yihua Duo, and Tao Tang

Abstract


The digital twin is considered the central component of modern industry. It has been adopted in many industrial fields. However, its application in nuclear engineering is very rare, especially for the radioactive waste deposits which is an urgent and tricky issue. Motivated by this demand and considering China's research & development guidelines for geological disposal of high-level radioactive waste (a three-step strategy by 2050 to construct the radioactive waste repository), a framework of the radioactive waste repository digital twin is proposed. The digital twin uses the framework edge + cloud with a multi-layer structure. It can be adopted in the construction of the radioactive waste repository. It can significantly strengthen the management capability, reduce the operating cost, improve the safety level and deal with accidents more efficiently. The first step for the achievement for the digital twin development of radioactive waste repository based on the framework is also introduced in the paper. The proposed digital twin framework of the radioactive waste repository in this work could be widely used as a reference and easily extended to support management in other industrial fields.
Key words: digital twin, radioactive waste repository, artificial intelligence, building information modeling, case study
FULL PAPER IN PDF FORMAT (1.08 MB)