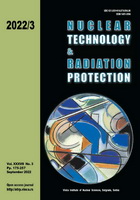 Vol. XXXVII, No. 3, Pp. 175-257
September 2022
UDC 621.039+614.876:504.06
ISSN 1451-3994


Pages: 253-257

Authors: Tae Ho Woo, Chang Hyun Baek, and Kyung Bae Jang

Abstract


As a historic challenge for humans, Martian colonization has been initiated by nuclear energy. A moving nuclear power plant could be imaginable known as a nuclear reactor rover. The design of the nuclear reactor rover has been performed where the important matter is how to make the caterpillar move the reactor and its facilities. Hence the slider length and contact point are proposed. The normalized heat transfer is analyzed by slide length and contact point where they are normalized as 1.0 and 10.0, respectively. Although the slider length of the caterpillar is proportional to heat transfer, the contact point shows the adverse values. Longer slider length and less contact point could be the optimized heat production system by the caterpillar which is the additional heat source except the other nuclear reactor. Any other planet could be considered as a potential human colony using the nuclear terraforming technology.
Key words: nuclear reactor, terraforming, rover, human colony
FULL PAPER IN PDF FORMAT (455 KB)