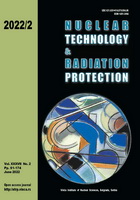 Vol. XXXVII, No. 2, Pp. 91-174
June 2022
UDC 621.039+614.876:504.06
ISSN 1451-3994


Pages: 153-158

Authors: Vuk A. Gajić, Nikola R. Mirković, Ivica T. Vujčić, and Slobodan B. Mašić

Abstract


Special high-protein foods suitable for diabetics must be treated to ensure the complete absence of microorganisms and bacteria. It is also important to achieve that this treatment does not change the nutritional value of the product. Among the new decontamination technologies, low-energy electron-beam treatment has proven to be an effective technique for inactivating bacteria with minimal impact on food quality. The paper aims to analyze the influence of low-energy electron-beam irradiation on the microbiological properties and nutritional value of high-protein foods.
Key words: low-energy electron-beam, gamma irradiation, high-protein food, microbiological decontamination, nutritional property
FULL PAPER IN PDF FORMAT (349 KB)