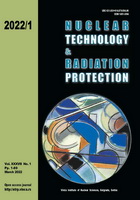 Vol. XXXVII, No. 1, Pp. 1-89
March 2022
UDC 621.039+614.876:504.06
ISSN 1451-3994


Pages: 42-50

Authors: Jingfei Cai, Shiwei Jing, Dedong He, Yangwenting Ou, Xinyi Ling, and Bingbing Li

Abstract


The deuterium-tritium neutron generator should be fully shielded for the safety of the operators participating in the experiments since the D-T neutron generator is commonly used in activation experiments. In this study, MCNP5 code was used to simulate the shielding effect of the neutron thermalization device previously designed by our group with Pb and boron-containing polyethylene as the shielding material. The neutron dose rate outside of the previous thermalization device can not meet the requirement, so a concrete wall is needed between the device and the operators. Two models are designed with concrete walls. One model is that the device and the experimental operators are not in the same room, another one is that the device and the experimental operators are in the same room, and there is an L-shaped concrete wall between them. In both models, the dose rate to the operators was less than 5 µSvh–1.
Key words: MCNP simulation, shielding, D-T modulated neutron initiator, MCNP5 code
FULL PAPER IN PDF FORMAT (2.29 MB)