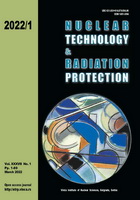 Vol. XXXVII, No. 1, Pp. 1-89
March 2022
UDC 621.039+614.876:504.06
ISSN 1451-3994


Pages: 18-30

Authors: Ahmad Firas Osman, Hanna EL Balaa, Omar EL Samad, Zainab Alsayed,
Ramadan Awad and Mohamed S. Badawi

Abstract


Lead oxide (PbO) bulk and nanoparticles of two different sizes (A = 78 nm and B = 54 nm) are incorporated separately into the polystyrene matrix at various concentrations (0, 10, 15, 25, and 35 %) using roll mill mixing and compressing molding techniques. The X-ray narrow-spectrum series (N-series / ISO 4037-1) is then used to investigate the radiation attenuation capability of the novel polymer composite PS/PbO, as well as the effect of varying PbO particle sizes on shielding performance. The filler dispersion and chemical elemental analysis of the synthesized composite are investigated using scanning electron microscopy and energy-dispersive X-ray spectroscopy. To determine the mass attenuation coefficients ?m, samples with various thicknesses of the synthesized composite are examined using a range of X-ray energies, and the experimental data are compared to theoretical values from NIST databases (XCOM and FFAST). The results indicate that either increasing the filler weight percentage or, decreasing the filler particle size, enhanced the attenuation parameters throughout all energies. The composite containing the smallest nanosize of PbO exhibited the maximum radiation shielding efficacy among all combinations and therefore, might be used to develop low-cost and lightweight X-ray shields.
Key words: X-ray shielding, polystyrene, lead oxide, nano-composite, radiation protection
FULL PAPER IN PDF FORMAT (1.72 MB)