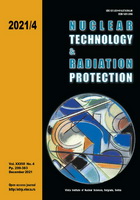 Vol. XXXVI, No. 4, Pp. 299-383
December 2021
UDC 621.039+614.876:504.06
ISSN 1451-3994


Pages: 376-383

Authors: Jihyun Ahn, Junsung Park, Hayoung Sim, Geunyoeng An, and Hee Seo

Abstract


To ensure the peaceful use of nuclear energy, nuclear safeguards are applied in member states of the International Atomic Energy Agency the Non-Proliferation Treaty. The two main goals of nuclear safeguards are effectiveness and efficiency. The International Atomic Energy Agency has a great interest in using a containment and surveillance technology to maintain continuity of knowledge. A representative means of a containment and surveillance technology is a sealing system to alert the user to tampering. The existing sealing systems used by the International Atomic Energy Agency are of limited utility for real-time verification purposes. To address this limitation, the present study analyzed the design requirements of a sealing system proposed by various institutions including the International Atomic Energy Agency, the U.S. Nuclear Regulatory Commission, a number of national laboratories, and companies. Then, we identified the appropriate design requirements of this system for real-time verification. The next step is to develop a real-time verification sealing system based on the design requirements identified and discussed herein. Such a system is expected to significantly enhance the efficiency of nuclear safeguards.
Key words: nuclear safeguard, sealing system, verification, real-time, design criteria
FULL PAPER IN PDF FORMAT (386 KB)