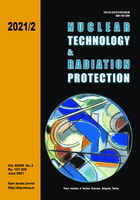 Vol. XXXVI, No. 2, Pp. 107-209
June 2021
UDC 621.039+614.876:504.06
ISSN 1451-3994


Pages: 182-191

Authors: Ljiljana M. Kljajević, Miljana M. Mirković, Sabina Dolenec, Katarina Šter, Mustafa Hadžalić, Ivana S. Vukanac, and Miloš T. Nenadović

Abstract


The potential re-use of red mud in the building and construction industry has been the subject of research of many scientists. The presented research is a contribution to the potential solution of this environmental issue through the synthesis of potential construction materials based on red mud. A promising way of recycling these secondary raw materials is the synthesis of alkali-activated binders or alkali activated materials. Alkali-activated materials or inorganic binders based on red mud are a new class of materials obtained by activation of inorganic precursors mainly constituted by silica, alumina and low content of calcium oxide. Since red mud contains radioactive elements like 226Ra and 232Th, this may be a problem for its further utilization. The content of naturally occurring radionuclides in manufactured material products with potential application in the building and construction industry is important from the standpoint of radiation protection. Gamma radiation of the primordial radionuclides, 40K and members of the uranium and thorium series, increases the external gamma dose rate. However, more and more precedence is being given to limiting the radiological dose originating from building materials on the population these days. The aim of this research was to investigate the possible influence of alkali activation-polymerization processes on the natural radioactivity of alkali activated materials synthesized by red mud (BOKSIT a. d. Milići, Zvornik, Bosnia and Herzegovina) and their structural properties. This research confirmed that during the polymerization process the natural radioactivity was reduced, and that the process of alkali activation of raw materials has an influence on natural radioactivity of synthesized materials.
Key words: red mud, inorganic binder, DRIFT, natural radioactivity, gamma index, building industry
FULL PAPER IN PDF FORMAT (963 KB)