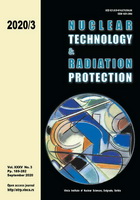 Vol. XXXV, No. 3, Pp. 189-282
September 2020
UDC 621.039+614.876:504.06
ISSN 1451-3994


Pages: 261-267

Authors: Jelena M. Šaponjski, Dragana P. ŠobiŠ ŠaranoviŠ, Djuro P. Macut, Tatjana V. IsailoviŠ, Nikola M. BogosavljeviŠ, Darko D. JovanoviŠ, and Vera M. Artiko

Abstract


The aim of investigation was to assess the role of somatostatin receptor scintigraphy in diagnosis and follow-up of pancreatic neuroendocrine neoplasms. Somatostatin receptor scintigraphy was performed with 740 MBq 99mTc-EDDA/HYNIC TOC for diagnosis of primary tumors and follow-up after the therapy. There were 63 true positive, 24 true negative, 4 false positive, and 6 false negative findings. Sensitivity was 91.3 %, specificity 85.7 %, positive predictive value 94.0 %, negative predictive value 80.0 %, accuracy 89.7 %. The SPECT contributed diagnosis in 28 true positive findings. In 32 patients (33 %) somatostatin receptor scintigraphy significantly changed the management of the patients (10 had surgery, in 17 somatostatin analogues, and in 5 peptide receptor radionuclide therapy was introduced). Mean Ki-67 index in true positive patients was 13.8 ± 5.0 % while in true negative 7.1 ± 3.4 % which is significantly lower at p < 0.05. There was significantly (p < 0.01) higher number of increased chromogranin A values in true positive than in true negative patients (p = 0.000857). Our results confirmed the value of SRS in the diagnosis and follow-up of the patients with pancreatic neuroendocrine neoplasms PanNEN if primary tumors, recurrences or metastases are suspected, as well as for appropriate choice of the therapy.
Key words: somatostatin receptor scintigraphy, neuroendocrine tumor, pancreas, follow-up, nuclear medicine, radionuclide
FULL PAPER IN PDF FORMAT (577 KB)