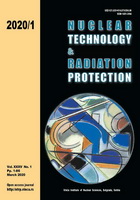 Vol. XXXV, No. 1, Pp. 1-86
March 2020
UDC 621.039+614.876:504.06
ISSN 1451-3994


Pages: 56-63

Authors: Bojan M. Ranković, Nikolina R. Nikolić, Slobodan B. Mašić, and Ivica T. Vujčić

Abstract


The distribution of the absorbed dose within the irradiated product is a complex function of the product density and homogeneity, the position and shape of the radiation source, as well as the design of the irradiator. In this paper, detailed mapping of absorbed radiation doses in products of different density: gauze, plastic, and soil, is performed. Positions of minimum and maximum absorbed radiation dose were determined, and the homogeneity of irradiation of products was calculated using the ethanol-monochlorobenzene oscillotitrator dosimetry system.
Key words: gamma irradiation, dose mapping, ethanol-monochlorobenzene, ISO 11137
FULL PAPER IN PDF FORMAT (748 KB)