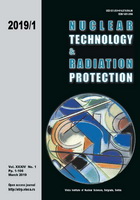 Vol. XXXIV, No. 1, Pp. 1-106
March 2019
UDC 621.039+614.876:504.06
ISSN 1451-3994


Pages: 72-78

Authors: Feliks V. Finkel, Igors A. Krainukovs, Vasily S. Litvinsky, and Vladimir V. Gostilo

Abstract


The article presents the results of the development of the scintillation gamma spectrometers, based on NaI(Tl), LaBr3 or SrI2(Eu) scintillators, intended for aerosol monitoring over a wide temperature range. The stabilization of the characteristics is provided by applying various stabilization methods of the spectrometric chain. The estimation of the impact of those methods on the stability of the characteristics of the developed radiation spectrometer is provided.
Key words: aerosol monitor, scintillation detector, performance stabilization
FULL PAPER IN PDF FORMAT (1,22 MB)