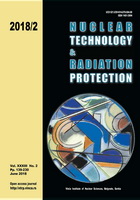 Vol. XXXIII, No. 2, Pp. 139-230
June 2018
UDC 621.039+614.876:504.06
ISSN 1451-3994


Pages: 188-194

Authors: Ivana V. Bošković, Snežana S. Nenadović, Ljiljana M. Kljajević, Ivana S. Vukanac, Nadežda G. Stanković, Jelena M. Luković,
and Mira A. Vukčević

Abstract


A significant amount of red mud generated as a by-product of the Bayer process in the aluminum industry may cause environmental problems if appropriate treatment is not carried out. The presented research dealt with the possibility of application of red mud as a pigment or as raw material for use in the construction material industry. In relation to the aim of this work, the physicochemical characterization was performed and the natural radioactivity of red mud as an industrial waste and a geopolymer sample based on it was determined. The presented research is a contribution to the potential solution for environmental protection through the synthesis of possible construction material based on red mud. The radiological hazard orginating from 226Ra, 232Th, and 40K in the samples was assesed throught the absorbed dose rate and the annual effective dose rate, calculated in accordance with the UNSCEAR 2010 report. Physicochemical characterization of all samples was conducted using X-ray diffraction and diffuse reflectance infrared Fourier transform spectroscopy.
Key words: amorphous material, microstructure, pigment, red mud, spectroscopy
FULL PAPER IN PDF FORMAT (371 KB)