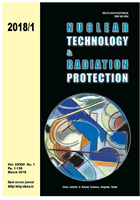 Vol. XXXIII, No. 1, Pp. 1-138
March 2018
UDC 621.039+614.876:504.06
ISSN 1451-3994


Pages: 112-116

Authors: Elio A. G. Tomarchio

Abstract


This work was aimed to search for a correlation between outdoor 222Rn air concentration and 210Pb activity in particulate samples collected on a filter. The existence of a correlation could support the hypothesis that both 222Rn and its long-lived product 210Pb are embedded into the same air masses and undergo the same air transport phenomena. Lead-210 activity was determined by means of gamma ray spectrometric measurement carried out a few days after the sampling whereas 222Rn concentration was measured through a commercial monitor. Experimental tests allowed to obtain a weak correlation between 222Rn and 210Pb air concentration as a preliminary result due to high uncertainties of outdoor 222Rn concentration measurements.
Key words: 222Rn, 210Pb, air filtration, atmospheric particulate, gamma ray spectrometry
FULL PAPER IN PDF FORMAT (410 KB)