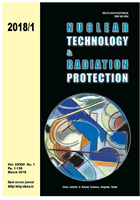 Vol. XXXIII, No. 1, Pp. 1-138
March 2018
UDC 621.039+614.876:504.06
ISSN 1451-3994


Pages: 61-67

Authors: Jiri Janda and Sabina Hohnova

Abstract


The manuscript clarifies the issues concerning the effective miniaturization of readout of the plastic scintillators while maintaining their high detection efficiency and sensitivity. Values obtained from the measurements of the chosen gamma emitters (60Co, 137Cs, 241Am), at various distances, were used to compare the detection efficiencies. The organic plastic scintillators, with the ternary system of different shapes and volumes, were chosen for the measurement. The detection parameters for the examined 1" PMT, with variable photocathode geometry, were experimentally found and compared to the normally used 2" PMT, with the circular type of photocathode. The primary aim of this work was to verify whether, in the case of mobile applications, such as UAV, it is possible to replace the currently bulky and quite heavy electronics with a miniature version and simultaneously preserve their detection parameters.
Key words: detection efficiency, photomultiplier, scintillation detector, plastic detector
FULL PAPER IN PDF FORMAT (896 KB)