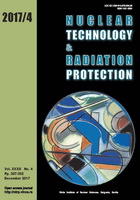 Vol. XXXII, No. 4, Pp. 307-392
December 2017
UDC 621.039+614.876:504.06
ISSN 1451-3994


Pages: 381-392

Authors: Irfan S. Fetahović, Edin Ć. Dolićanin, Djordje R. Lazarević, and Boris B. Lončar

Abstract


In this paper we give an overview of radiation effects in emergent, non-volatile memory technologies. Investigations into radiation hardness of resistive random access memory, ferroelectric random access memory, magneto-resistive random access memory, and phase change memory are presented in cases where these memory devices were subjected to different types of radiation. The obtained results proved high radiation tolerance of studied devices making them good candidates for application in radiation-intensive environments.
Key words: non-volatile memory, radiation effect, resistive RAM, ferroelectric RAM,
magneto-resistive RAM, phase change memory
FULL PAPER IN PDF FORMAT (825 KB)