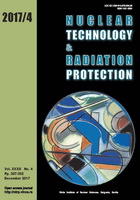 Vol. XXXII, No. 4, Pp. 307-392
December 2017
UDC 621.039+614.876:504.06
ISSN 1451-3994


Pages: 334-341

Authors: Jovana A. Džoljić, Svetlana M. Stevović, Dragana J. Todorović, Svetlana M. Polavder, Milica M. Rajačić, and Jelena D. Krneta Nikolić

Abstract


The primary aim of this research is the investigation of natural and artificial radioactivity in protected areas of Kopaonik, Vlasina, and Rila Mountains. Soil samples (including lake sediment), drinkable spring water and conifers at mentioned locations of Southeast Europe, are chosen as study objects due to their importance for people and the environment in global. Specific activities of 226Ra, 232Th, 40K, 238U, 235U, 137Cs, 210Pb, and 7Be are determined using gamma spectrometry and the obtained values compared with literature and mean world values. Risk assessment parameters and the soil-plant transfer factor were determined for 226Ra, 40K, 137Cs, and 210Pb. This is the first radioactivity study of high mountain areas of Vlasina and Kopaonik in Serbia and Rila in Bulgaria and as such a baseline measurement and foundation for future research.
Key words: gamma ray spectrometry, risk assessment, soil, Norway spruce, Kopaonik, Rila, Vlasina
FULL PAPER IN PDF FORMAT (549 KB)