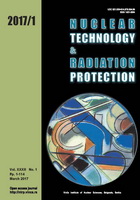 Vol. XXXII, No. 1, Pp. 1-114
March 2017
UDC 621.039+614.876:504.06
ISSN 1451-3994


Pages: 109-114

Authors: Ming-Kuan Tsai

Abstract

Nuclear incidents and accidents have occurred at various nuclear power plants. Since some of these incidents and accidents caused by human errors might be preventable, numerous researchers argue that fatigue management for on-site workers is the key, especially for mental fatigue. Thus, this study proposes an approach consisting of two mechanisms. A fatigue monitor could identify the mentally fatigued workers by detecting their brain wave rhythms through a brain-computer interface. For such workers, a fatigue alert would awaken them. If the status of the mentally fatigued workers becomes worse, based on a positioning technique (i.e., wireless networks), this mechanism would alert the nearby workers and managers to deal with this condition. The test results indicate that the proposed approach enhanced the capacity to examine the mentally fatigued workers, ensured the accuracy in locating these workers, and avoided possible nuclear incidents. This study is a useful reference for similar applications in the nuclear industry.
Key words: brain-computer interface, electroencephalogram, fatigue, nuclear power plant safety,
human error
FULL PAPER IN PDF FORMAT (549 KB)