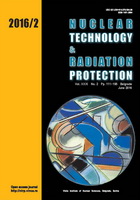 Vol. XXXI, No. 2, Pp. 111-195
June 2016
UDC 621.039+614.876:504.06
ISSN 1451-3994


Pages: 142-149

Authors: Alireza Vejdani-Noghreiyan, Elham Aliakbari, Atiyeh Ebrahimi-Khankook, and Mahdi Ghasemifard

Abstract
Mass attenuation coefficient of lead-based ceramics have been measured by experimental methods and compared with theoretical and Monte Carlo simulation results. Lead-based ceramics were prepared using mixed oxide method and the X-ray diffraction analysis was done to evaluate the crystal structure of the produced handmade ceramics.The experimental results show good agreement with theoretical and simulation results. However at two gamma ray energies, small differences between experimental and theoretical results have been observed. By adding other additives to ceramics and observing the changes in the shielding properties such as flexibility, one can synthesize and optimize ceramics as a neutron shield.
Key words: attenuation coefficient, CsI(Tl) detector, lead-based ceramic, MCNP-4C
FULL PAPER IN PDF FORMAT (13.06 MB)