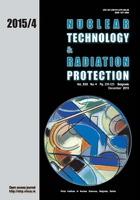 Vol. XXX, No. 4, Pp. 239-323
December 2015
UDC 621.039+614.876:504.06
ISSN 1451-3994


Pages: 301-305

Authors: Mladen D. Nikolić, David R. Simović, Milija Zečević, and Violeta V. Cibulić

Abstract

Building materials are the second major source of indoor radon, after soil. The contribution of building materials to indoor radon amount depends upon the radium content and exhalation rates,which can be used as a primary index for radon levels in the dwellings. This paper presents the results of using the experimentally determined exhalation rates of siporex blocks and concrete plates, to assess the radiation exposure in dwellings built of siporex blocks. The annual doses in rooms have been estimated depending on the established modes of ventilation. Realistic scenario was created to predict an annual effective dose for an old person, a housewife, a student, and an employed tenant, who live in the same apartment, spending different periods of time in it. The results indicate the crucial importance of good ventilation of the living space.
Key words: radon, exhalation rate, radiation exposure, siporex, concrete, modelling
FULL PAPER IN PDF FORMAT (3.22 MB)