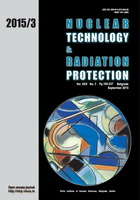 Vol. XXX, No. 3, Pp. 165-237
September 2015
UDC 621.039+614.876:504.06
ISSN 1451-3994


Pages: 225-231

Authors: Miloš Z. Živanović, Djordje R. Lazarević, Olivera F. Ciraj-Bjelac, Srboljub J. Stanković, Sandra M. Ćeklić, and Katarina S. Karadžić

Abstract

Intercomparisons are important activities performed to ensure that the services provided by calibration laboratories to end-users follow internationally accepted standards. Ionizing radiation dosimetry intercomparisons are usually of two types – postal thermoluminescent dosimeter intercomparisons and ionization chamber calibration intercomparisons. In this paper, both types of intercomparisons are analysed together with the results of seven years of participation in such intercomparisons. Several discrepancies were discovered as a result of intercomparisons analysis and the resolution of the discrepancies was discussed.
Key words: dosimetry, metrology, intercomparison, quality assurance
FULL PAPER IN PDF FORMAT (758 KB)