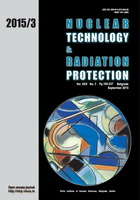 Vol. XXX, No. 3, Pp. 165-237
September 2015
UDC 621.039+614.876:504.06
ISSN 1451-3994


Pages: 219-224

Authors: Moustafa E. Medhat, Vishwanath P. Singh, and Seyed P. Shirmardi

Abstract

In the proposed work, an investigation on hazard assessment by lead element and natural radioactivity in cosmetic samples collected from various countries is presented. These samples were face powder, eyebrow paint and henna. The lead element in cosmetic samples was determined using particle-induced X-ray emission. Maximum natural radioactivity concentrations of 226Ra and 40K were found in khol and make-up cosmetic samples, respectively. The qualitative analysis of cosmetic samples showed that lead is the most toxic element found in eyebrow paint samples.
Key words: traditional cosmetics, lead, particle-induced X-ray emission, khol
FULL PAPER IN PDF FORMAT (3.11 MB)