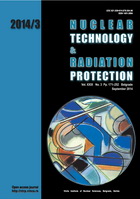 Vol. XXIX, No. 3, Pp. 171-252
September 2014
UDC 621.039+614.876:504.06
ISSN 1451-3994


Pages: 233-241

Authors: Otilija D. Keta, Tanja M. Bulat, Lela B. Korićanac, Jelena J. Žakula, Giacomo Cuttone, Giuseppe Privitera, Ivan M. Petrović, and Aleksandra M. Ristić-Fira

Abstract


Molecular targeted cancer therapy is a promising treatment strategy. Considering the central role of the epidermal growth factor receptor in cell proliferation and survival, there are indications that targeted agents like tyrosine kinase inhibitors, i. e., erlotinib, may enhance the antitumor treatment by radiation. The aim of this study is to analyze the inactivation effects of γ-rays and to test the radiosensitizing potential of erlotinib on human lung adenocarcinoma cells in vitro. Irradiations were performed with doses ranging from 1 Gy to 8 Gy. In order to increase the radiosensitivity of CRL-5876 lung adenocarcinoma cells, the cells were treated with a clinically relevant concentration of 2 µM erlotinib. The effects of single and combined treatments were monitored using clonogenic survival, cell viability and proliferation assays at different time points. For the detection and visualization of the phosphorylated histone H2AX (γ-H2AX), an important biological marker of DNA double-strand break formation, fluorescence immunocytochemistry, was performed. The response to the treatment was monitored at four time points: 30 min, 2, 6, and 24 h. Irradiations with γ-rays resulted in significant cell inactivation regarding all analyzed biological endpoints. Combined treatments revealed consistent cell inactivation. Moreover, compared to γ-rays alone, elevated levels of γ-H2AX foci were observed after pretreatment with erlotinib, indicating radiosensitization through impaired DNA repair.
Key words: human lung adenocarcinoma cell, γ-ray, DNA damage, erlotinib, radiosensitization
FULL PAPER IN PDF FORMAT (1,24 MB)