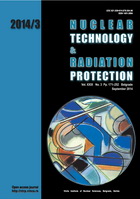 Vol. XXIX, No. 3, Pp. 171-252
September 2014
UDC 621.039+614.876:504.06
ISSN 1451-3994


Pages: 186-189

Authors: Adnan Calik, Sahin Akbunar, Nazim Ucar, Nihat Yilmaz, Mustafa Serdar Karakas, and Iskender Akkurt

Abstract


The radiation shielding properties of three different stainless steels have been investigated. For this purpose, linear attenuation coefficients at photon energy levels of 662 keV and 1250 keV have been measured. The obtained results showed that ferritic stainless steel was more capable in stopping the high energy photons than its non-magnetic counterpart.
Key words: stainless steel, magnetization, radiation shielding
FULL PAPER IN PDF FORMAT (2,41 MB)