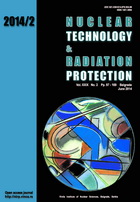 Vol. XXIX, No. 2, Pp. 97-169
June 2014
UDC 621.039+614.876:504.06
ISSN 1451-3994


Pages: 135-141

Authors: Snežana S. Nenadović, Ljiljana M. Kljajević, Bojan Ž. Šešlak,
Nina N. Obradović, Ivana S. Vukanac, and Vladimir B. Pavlović


Abstract


The aim of this study was to investigate the Cs+ ions sorption on natural minerals clinoptilolite. The analysis of clinoptilolite and clinoptilolite with adsorbed Cs+ ion was conducted by X-ray diffraction, scanning electron microscopy, X-ray fluorescence, and gamma spectrometry. The specific activity of naturally occurring radionuclides in clinoptilolite was determined by gamma spectrometry by using the HPGe semiconductor detector. Obtained activity concentrations ranged from 49 Bq/kg to 810 Bq/kg for 40K, 5.7 Bq/kg to 10 Bq/kg for 238U, 5.8 Bq/kg to 70 Bq/kg for 232Th(228Ac), and the presence of artificial radionuclides was not detected (137Cs < 0.02 Bq/kg). The study of the thermal decomposition of raw clinoptilolite and Cs adsorbed clinoptilolite by differential thermal analysis is presented in this paper. The activation energy of the reaction phase transformation of raw clinoptilolite is 156.7 kJ/mol, while Cs adsorbed clinoptilolite is 121.7 kJ/mol. The lower value of activation energy reaction of the phase transformation Cs adsorbed clinoptilolite indicates that Cs which is adsorbed destabilizes the crystal structure of clinoptilolite and thus facilitates the transition to the amorphous state.
Key words: clinoptilolite, adsorption, cesium, natural radioactivity, phase transformation, differential thermal analysis
FULL PAPER IN PDF FORMAT (811 KB)