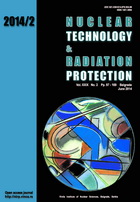 Vol. XXIX, No. 2, Pp. 97-169
June 2014
UDC 621.039+614.876:504.06
ISSN 1451-3994


Pages: 165-169

Authors: Jan Hansman

Abstract


This paper describes a homemade lead, 15 cm-thick, cylindrical shaped shield of a 9" x 9" NaI(Tl) gamma spectrometric well-type detector. Commercially available lead was melted into cylindrical rings. The molds for the cylindrical rings were made from hard-cooked beech wood which was pressed in a sand mold to make the final mold. After cooling, the lead rings and ring edges were sanded, transported from the foundry to the laboratory of the Department of Physics in Novi Sad, Serbia, and assembled in the detector shield. The total mass of the shield is 2622 kg. Some lines inside the shield are reduced almost 200 times and the total count rate (280 keV-3000 keV) is reduced 132.7 times.
Key words: gamma spectroscopy, detector shield, NaI(Tl), scintillation detector
FULL PAPER IN PDF FORMAT (1,33 MB)