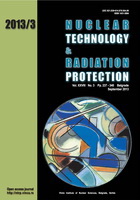 Vol. XXVIII, No. 3, Pp. 237-340
September 2013
UDC 621.039+614.876:504.06
ISSN 1451-3994


Pages: 260-264

Authors: Bita Baghalzadeh, Farhood Ziaie, Fatemeh Dowlatshah, Majid Mojtahedzadeh Larijani

Abstract

In this work, synthetic nano-structure hydroxyapatite samples were doped by carbonate ions with 80 keV of energies during different times of 4, 8, 16, and 24 minutes using an ion implantation device. All the samples were irradiated with the 60Co gamma ray source at different absorbed doses of 5, 10, 20, and 50 kGy and subjected to electron paramagnetic resonance measurements, subsequently. The electron paramagnetic resonance signal intensities were constructed as a function of radiation dose and were compared with the results of non-implanted one, and were studied from dosimetric point of view. The obtained results show a considerable increment in electron paramagnetic resonance signal intensity of the samples which were implanted for 24 minutes.

Key words: electron paramagnetic resonance spectrometer, hydroxyapatite, gamma-ray, carbon doping, ion implantation technique
FULL PAPER IN PDF FORMAT (762 KB)