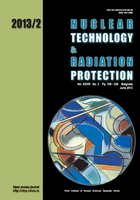 Vol. XXVIII, No. 2, Pp. 109-236
June 2013
UDC 621.039+614.876:504.06
ISSN 1451-3994


Pages: 232-236

Authors: Mihajlo Č. Vićentijević, Gordana K. Pantelić, Dubravka Ž. Vuković, Vujadin J. Vuković, Branislava M. Mitrović, and Dragan Z. Živanov

Abstract

Considering that previous studies were mainly focused on a protection of domestic animals from alimentary Cs-contamination, the objective of the present study was to investigate the possibilities of ammonium – iron (III) hexacyanoferrate (II) – AFCF and clinoptilolite as radioprotectors. Pheasants of species Phasianus colchicus were used as trial animals. The total number of 2 -month old pheasants was 100. The pheasants were divided into five groups; each group was contaminated with 750 Bq of 137Cs per bird in a single experiment. The experiment consisted of 5 phases during which the animals were given AFCF (0.2 g) and clinoptilolite (2 g) either in water solution or mixed with food, according to the phase. The level of contamination was determined by gamma – spectrometry in breast meat, leg meat, liver and gizzard. The results show that the best protection effect was obtained when AFCF is used in the water solution i. e. 92.7%; while AFCF mixing with food demonstrated 74.9% of protection; clinoptilolite proved less protective with 69.3% – in the water solution, and 50.5% when mixed with food.

Key words: radiocontamination, 137Cs, radioprotection, AFCF, zeolite, pheasant, meat, internal organ
FULL PAPER IN PDF FORMAT (547 KB)