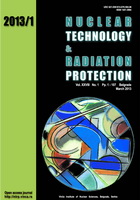 Vol. XXVIII, No. 1, Pp. 1-107
March 2013
UDC 621.039+614.876:504.06
ISSN 1451-3994


Pages: 68-72

Authors: Dušan S. Mrđa, Ištvan S. Bikit, Miroslav J. Vesković, Sofija M. Forkapić,
Nataša M. Todorović, Jovana B. Nikolov, and Kristina I. Bikit

Abstract

The presented, very simplified model provides a possibility for estimation of surface Pb-210 activity, depending on the changes of Rn-222 concentration during the long-term radon presence inside the closed room. This can be useful for retrospective assessment of the average indoor radon concentration for certain historical period, based on the surface contamination by the radionuclide Pb-210 in a closed or poorly ventilated room over a long period of time. However, the surface Pb-210 contamination depends on the pattern of radon concentration changes, and in this model is supposed that the change of indoor radon concentration, which periodically enters the room, is affected only by the radioactive decay and the inserted amount of radon in each entry. So, each radon entry can be comprehended as a "net amount" of radon, or excess which remains inside the room due to radon's periodical in-out flow. It is shown, that under the conditions of the model, the achieved average value of radon concentration of 275 Bq/m3, implies that the saturated surface contamination by the Pb-210 of 160 Bq/m2 after approximately 150 years.

Key words: surface contamination, indoor radon concentration, Rn-222, Pb-210
FULL PAPER IN PDF FORMAT (693 KB)