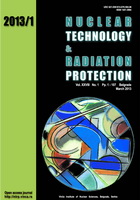 Vol. XXVIII, No. 1, Pp. 1-107
March 2013
UDC 621.039+614.876:504.06
ISSN 1451-3994


Pages: 102-107

Authors: Dušan S. Rajić, Negovan D. Ivanković, Nataša D. Ivanković,
Marina S. Ilić, Željko B. Senić, and Nataša D. Pajić

Abstract

The use of ammunition primed with depleted uranium is one of the hallmarks of modern combat operations, resulting in environmental contamination by particles of depleted uranium and uranium oxide, scattered around in the form of submicron-scale aerosols. This paper examined the protective effectiveness of the Serbian military's M3 protective face mask in relation to the presence of airborne depleted uranium and its by-products. Sodium chloride in solid aerosol form was used as a test substance and adequate physical simulator of such radioactive aerosols because its granulometric (particle) size distribution met the requirements of suitability as a simulator. Determination of aerosol concentration was carried out by flame photometry method, whilst granulometric distribution was determined by an electric particles analyzer. It was established that the total internal leakage of the M3 protective mask was as much a function of the penetration of particles through the combined M3 filter as of the leaks along the fitting line of the user's face mask and the inhalation valve. In terms of its protective effect against aerosols of depleted uranium and associated oxides, the Serbian M3 protective mask was determined to be of high efficiency and physiological suitability.

Key words: depleted uranium, aerosols, protective mask, filter
FULL PAPER IN PDF FORMAT (300KB)