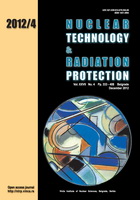 Vol. XXVII, No. 4, Pp. 333-408
December 2012
UDC 621.039+614.876:504.06
ISSN 1451-3994


Pages: 404-408

Authors: Ivan M. Trajić, Petar D. Beličev, Srdjan M. Petrović, Milan N. Rajčević, Dragan M. Munitlak, and Boško P. Bojović

Abstract

A method of measuring particle fluence and ion beam current in experiments of ion implantation is presented. The design and technical details of a realized prototype device are discussed. Special care is devoted to the effect of secondary electrons and its elimination. An electrostatic solution with two electrodes for the suppression of secondary electrons has been realized. Our approach provides redundancy and allows lower bias voltages to be used for the suppression of electrons. The presented results illustrate the efficiency of the proposed solution.

Key words: fluence, ion beam, measurement device, secondary electron
FULL PAPER IN PDF FORMAT (899 KB)