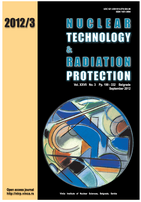 Vol. XXVII, No. 3, Pp. 199-332
September 2012
UDC 621.039+614.876:504.06
ISSN 1451-3994


Pages: 260-268

Authors: Djordje Ž. Petrović, Nadežda S. Nikolić, Dragana T. Stanković, and Divna Dj. Djokić

Abstract

Radiopharmaceuticals based on 90Y are widely used in the treatment of malignant deseases. In order to meet the requirements for their future application, a 90Sr/90Y generator was developed and 90Y eluted from this locally produced generator was used for the radiolabelling of the DOTA-conjugated somatostatin analog [DOTA0,Tyr3] octreotate and the preparation of [90Y-DOTA0,Tyr3] octreotate (90Y-DOTATATE) for peptide receptore radionuclide therapy.90Sr/90Y generator was based on the electrochemical separation of 90Y from 90Sr in a two-cycle electrolysis procedure. Three electrode cells were used to perform both electrolyses. In both cycles, working electrodes were kept on constant potential. The pH of the solution was adjusted to 2.7 of the value before the electrolyses. The radionuclidic purity of the 90Y solution was analysed by ITLC and extraction paper chromatography. The labelling of peptide (100µg DOTATATE) with 90YCl3 was performed at 95 °C for 30 minutes. Radiochemical purity was determined by HPLC and chromatographic separation, using a solid SepPak C-18 column. Results obtained confirmed the efficiency of our electrochemical separation technique and quality control methods for 90Y. The achieved efficiency of the 90Sr/90Y generator above 96% of the theoretical value represents a good basis for the further development of this generator. The labelling of the DOTATATE with 90Y exhibited a high efficiency, too: there was less than 1% of 90Y3+ in the 90Y-DOTATATE.

Key words: radionuclide therapy, 90Y, 90Sr/90Y generator, radiolabelling, 90Y-DOTATATE
FULL PAPER IN PDF FORMAT (658 KB)