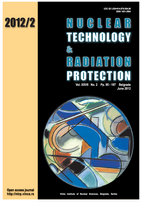 Vol. XXVII, No. 2, Pp. 95-197
June 2012
UDC 621.039+614.876:504.06
ISSN 1451-3994


Pages: 171-177

Authors: Rade S. Sekulić, Nikola M. Slavković, Milesa Ž. Srećković, Milojko S. Kovačević,
Miljan S. Stamenović

Abstract

The fiber optics technology is constantly being developed, and is becoming an essential component of contemporary communications, medicine and industry. Fibers, their connections and system components play a major role in optical signal transmission, telecommunications, power transmission, and sensing processes using fiber technology. The two main light propagation characteristics of an optical fiber are attenuation and dispersion. The possibility of controling these parameters is of utmost importance for obtaining the requested transmission quality. This paper reports on an investigation to determine the influence of gamma radiation of 60Co on the variation of optical fiber propagation parameters, such as polarization mode dispersion. In addition, it also considers chosen topics in the field of fiber optics technology.

Key words: optical fiber, radiation effect, polarization mode dispersion, environmental effect, gamma irradiation
FULL PAPER IN PDF FORMAT (1,1 MB)