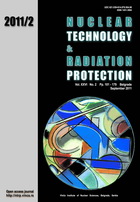 Vol. XXVI, No. 3, Pp. 181-274
December 2011
UDC 621.039+614.876:504.06 ISSN 1451-3994



Pages: 237-244

Authors: Annapurna Agrawal, Pradeep K. Goyal

Abstract

This study was carried out to observe the radio protective potential of Aegle Marmelos fruit extract (AME) against radiation-induced hematological and biochemical alterations in blood and liver of mice. For this purpose, adult Swiss albino mice were exposed to 6 Gy gamma radiation in the presence (experimental) or absence (control) of the extract (100 mg/kg body weight animal/day). Exposure to radiation resulted in a significant decline in the count of erythrocyte, hemoglobin (Hb) and hematocrit (Hct) in peripheral blood. In contrast, extract-pretreated irradiated animals had a significant rise in all of these blood constituents, as compared with the irradiated control. Furthermore, a significant elevation in lipid peroxidation over normal was recorded in the irradiated control, whereas such increase was considerably lesser in extract-pretreated animals. Likewise, pretreatment with AME caused a significant increase in glutathione levels in the serum, as well as in the liver, in comparison to irradiated controls. These results indicate that AME may be responsible for the protection of stem cells in bone marrow, subsequently resulting in a rise of hematological constituents in peripheral blood. The present study affirms the prophylactic use of AME against radiation-induced hematological and biochemical alterations in mammals.
Key words: gamma radiation, glutathione, hematological constituents, lipid peroxidation, Aegle Marmelos, Swiss albino mice
FULL PAPER IN PDF FORMAT (1.03 MB)