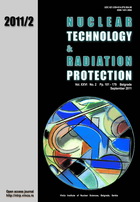 Vol. XXVI, No. 2, Pp. 101-179
September 2011
UDC 621.039+614.876:504.06 ISSN 1451-3994



Pages: 177-179

Authors: Seyed M. Hosseini Pooya, Tahereh Orouji, Mansour Jafarizadeh, Firoozeh Nazeri, Fatemeh Yoosefi Nejad and Mohammad Reza Dashtipour

Abstract

The dose assessments of industrial radiographers who have been involved in radiation incidents in Iran during the years 2005-2009 are presented and discussed. All cases and events have been recognized by the regulatory body – National Radiation Protection Department of Iran as incidents based on the information declared by the Radiation Protection Officers. The registered dose values are in the range of 0 to 345 mSv.
Key words: industrial radiography, radiation incident, individual dose, dose distribution, regulatory body
FULL PAPER IN PDF FORMAT ( 169 KB)