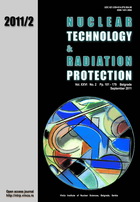 Vol. XXVI, No. 2, Pp. 101-179
September 2011
UDC 621.039+614.876:504.06 ISSN 1451-3994



Pages: 126-133

Authors: Uma Gupta, Ranu Chaudhary, and Pradeep K. Goyal

Abstract

The present study deals with the protective effect of Alstonia scholaris extract against radiation -induced hematological alterations. Swiss albino male mice were selected from an inbred colony and divided into four groups. The first group received only double distilled water orally, served as vehicle control and the second group were administered the Alstonia scholaris extract at a dose of 100 mg/kg body weight per day dissolved in the double distilled water. The third group was administered the double distilled water, which served as irradiated control while the fourth group was administered the Alstonia scholaris extract once in a day for five consecutive days. Groups third and fourth were exposed to 7.5 Gy of gamma radiation after half an hour of 5th day of double distilled water or Alstonia scholaris extract administration, respectively. The animals were autopsied at 12 hours, days: 1st, 3rd, 7th, 15th, and 30th post-exposure for hematological evaluation. The extract was found to restore the total leucocytes and differential leucocytes (lymphocytes, monocytes, neutrophils, and non-neutrophilic granulocytes) count in the Alstonia scholaris extract pretreated animals as compared to the irradiated control group. The data clearly indicate that the Alstonia scholaris extract significantly reduced the deleterious bioeffects of radiation on peripheral blood.
Key words: Alstonia scholaris, radioprotection, hematological profile, Swiss albino mice
FULL PAPER IN PDF FORMAT (923 KB)