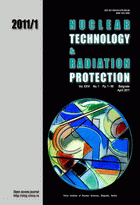 Vol. XXVI, No. 1, Pp. 1-99
April 2011
UDC 621.039+614.876:504.06 ISSN 1451-3994



Pages: 11-17

Authors: Zora S. Žunić, Jerzy W. Mietelski, Sanja B. Radanović, Renata Kierepko, Giancarlo Ciotoli, Igor T. Čeliković, Predrag N. Ujić, Dragica M. Kisić, Miroslaw Bartyzel, Joanna Bogacz, Vladimir I. Udovičić, Rodoljub D. Simović

Abstract

This paper deals with the analysis of natural radionuclide content in 23 water samples collected in the vicinity of the Nikola Tesla B thermal power plant, Serbia. All samples were analyzed for 226Ra and uranium isotopes (238U, 234U) activity using radiochemical methods and alpha spectrometry. Obtained results show that the activity concentrations for uranium and radium in the water around the thermal power plant are low when compared to those from areas across Serbia with their enhanced natural uranium and radium content. No important radiological hazard related to uranium and radium activity stored in heap was found.


Key words: alpha spectrometry, lignite-fired power plant, activity concentration, radium, uranium
FULL PAPER IN PDF FORMAT ( 822 KB)