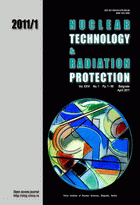 Vol. XXVI, No. 1, Pp. 1-99
April 2011
UDC 621.039+614.876:504.06 ISSN 1451-3994



Pages: 58-63

Authors: Milad Enferadi, Mahdi Sadeghi

Abstract

Antimony-122, having a half-life of 2.723 d and Ib-= 97.59%, is an important radiotracer in studies of environmental contamination and food crops. For the work discussed in this paper, the production of 122Sb was done via the natSn(p, xn)122Sb nuclear reaction. Radiochemical separation was performed by silica gel column chromatography and liquid-liquid extraction methods. Excitation functions for the 122Sb radionuclide, via 122Sn(p, n)122Sb, natSn(p, xn)122Sb, 122Sn(d, 2n)122Sb, natSn(d, xn)122Sb, 124Sn(p, 3n)122Sb and 124Sn(d, 4n)122Sb reactions, were calculated by ALICE/91, ALICE/ASH, and TALYS-1.2 codes and compared with existing data.


Key words: nuclear data, production, ALICE/ASH, silica gel, antimony-122
FULL PAPER IN PDF FORMAT ( 887 KB)