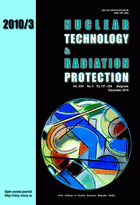 Vol. XXV, No. 3, Pp. 157-254
December 2010
UDC 621.039+614.876:504.06
ISSN 1451-3994



Pages: 192-197

Authors: Danijela R. Obradović-Arsić, Snežana S. Nenadović,
Dejan J. Filipović, and Bojana M. Mihajlović

Abstract

This paper provides information about potential effects of natural ionizing radiation on general population health. Natural radionuclides are particularly stressed, as well as health effects of high and lower doses. Radio-ecological areals have been presented for Serbia, while radiation risk has been assessed for the population of Serbia according to census years.
Key words: natural ionizing radiation, health, Serbia
FULL PAPER IN PDF FORMAT (437 KB)