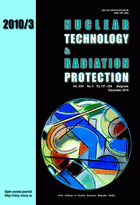 Vol. XXV, No. 3, Pp. 157-254
December 2010
UDC 621.039+614.876:504.06
ISSN 1451-3994



Pages: 239-248

Authors: Yuri N. Lobach, Michail V. Lysenko, Vladimir N. Makarovsky, Valery N. Shevel

Abstract

The Kiev's research reactor WWR-M has been in operation for more than 50 years and its further operation is planned for no less than 8-10 years. The acting nuclear legislation of Ukraine demands from the operator to perform the decommissioning planning during the reactor operation stage as early as possible. Recently, the Decommissioning Program has been approved by the regulatory body. The Program is based on the plans for the further use of the reactor site and foresees the strategy of immediate dismantling. The Program covers the whole decommissioning process and represents the main guiding document during the whole decommissioning period, which determines and substantiates the principal technical and organizational activities on the preparation and implementation of the reactor decommissioning, the consequence of the decommissioning stages, the sequence of planned works and measures as well as the necessary conditions and infrastructure for the provision and safe implementation.
Key words: research reactor, decommissioning, dismantling, radwaste management
FULL PAPER IN PDF FORMAT (549 KB)