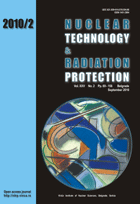 Vol. XXV, No. 2, Pp. 69-156
September 2010
UDC 621.039+614.876:504.06
ISSN 1451-3994





Pages: 143-151

Authors: Josef Podlaha

Abstract

The Nuclear Research Institute Rez has been a leading institution in all areas of nuclear R&D in the Czech Republic since it was established in 1955. After more than 50 years of activities in the field, there are some environmental liabilities that need to be remedied. The remediation of old environmental liabilities concerning the Nuclear Research Institute is the only ongoing decommissioning project in the Czech Republic. The nature of these environmental liabilities is very specific and requires special remediation procedures. The process begun in 2003 and is expected to be finished by 2014.
Key words: decommissioning, decontamination, radioactive waste, remediation
FULL PAPER IN PDF FORMAT (1.80 MB)