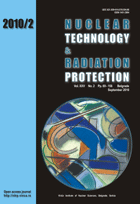 Vol. XXV, No. 2, Pp. 69-156
September 2010
UDC 621.039+614.876:504.06
ISSN 1451-3994



Pages: 126-132

Authors: Ranu Chaudhary, Uma Gupta, and Pradeep K. Goyal

Abstract

The present study has been carried out to evaluate the radioprotective effect of Trigonella foenum seeds extract (TFE) on peripheral blood of mice. For this purpose, mice were orally given double distilled water (control) or optimum dose (100 mg/kg of body weight per day) of TFE for five consecutive days (experimental). Thirty minutes after the last administration of double distilled water or TFE, these were exposed whole-body to 5 Gy gamma radiation and autopsied between 12 hours to 30 days for hematological and biochemical estimation. Total erythrocyte count, hemoglobin level, and hematocrit percentage were decreased from normal in both the groups. A significant increase in these parameters was observed in TFE administered irradiated group, in contrast to without TFE irradiated one, by restoring towards normal values at the end of the experiment. From the results, it is evident that TFE may be responsible for the protection of stem cells in bone marrow which subsequently resulted in higher hematological constituents in peripheral blood. The study concludes the prophylactic use of such plant extract against radiation induced hematological alterations.
Key words: gamma radiation, hematological constituent, glutathione, lipid peroxidation, trigonella foenum graecum, swiss albino mouse
FULL PAPER IN PDF FORMAT (488 KB)