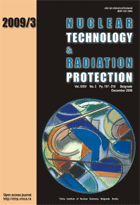 Vol. XXIV, No. 3, Pp. 157-218
December 2009
UDC 621.039+614.876:504.06
ISSN 1451-3994


Pages: 209-211

Authors: Miloš VUJISIĆ, Koviljka STANKOVIĆ, Edin DOLIĆANIN, Bojan JOVANOVIĆ

Abstract

The aim of this paper is to examine the influence of neutron and gamma irradiation on the dissipation factor and capacitance of capacitors with polycarbonate dielectrics. The operation of capacitors subject to extreme conditions, such as the presence of ionizing radiation fields, is of special concern in military industry and space technology. Results obtained show that the exposure to a mixed neutron and gamma radiation field causes a decrease of capacitance, while the loss tangent remains unchanged.
Key words: polycarbonate, capacitance, neutron, gamma ray, radiation effect
FULL PAPER IN PDF FORMAT (307 KB)